bambupensel tusch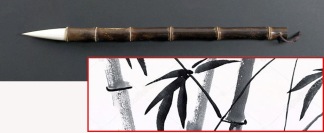 Pris:
99 kr
Inkl. 25% Moms
Typ:
Bambupensel Tusch
Antal:
Bambupensel med mjuk följsam borst av gethår.

Bambupensel tusch är en traditionell kinesisk kalligrafipensel den lämpar sig för dekor med Decopotterycolour, Watercolour, engobe och andra keramikfärger.

Bambupensel tusch Borst: Bredd vid bas 12 mm, längd 49 mm. Totallängd: 285 mm.

Bamboo brush with a soft, flexible brush of goat's hair.
Bamboo brush soft is a traditional Chinese calligraphy chip. It is suitable for décor with Decopotterycolour, Watercolour, engobe, and other ceramic colours.

Bambupensel tusche: Width at base 12 mm, length 49 mm. Total length: 285 mm.